Easy Prawn Tacos
Ingredients
⅔ cup white vinegar
⅔ cup water
¼ cup caster sugar
1 red onion, thinly sliced
400g prawns
2 tbsp olive oil
2 tsp smoked paprika
½ tsp cayenne chilli powder (or to taste)
3 limes
½ bunch coriander, leaves picked and chopped
1 large tomato, diced
Kewpie mayonnaise
5 mini tortillas
Method
For pickled red onions, bring to boil white vinegar, water and caster sugar in a small pot. Pour over onions in a heat-proof bowl or jar.
Combine prawns with olive oil, paprika, cayenne and juice of one lime. Season.
Heat a pan over high heat. Add prawns and cook for around 1 minute on each side, until browned and cooked through.
In a skillet over high heat, warm tortillas for around 30 seconds on each side, until soft and beginning to char in spots.
Assemble tacos. Top with tomato, prawns, mayonnaise, onion, coriander and a squeeze of lime juice. Serve.
Serves 2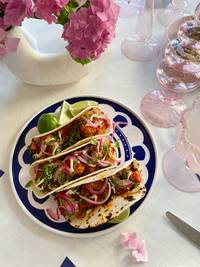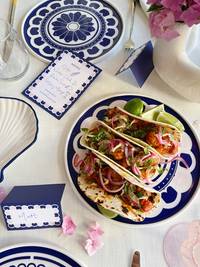 Elotes
Ingredients
4 ears of corn, husks removed
1 tbsp Kewpie mayonnaise
1½ limes, juiced
½ teaspoon chilli powder (optional)
75g feta, crumbled
Small handful coriander, chopped
Method
Bring a large pot of salted water to the boil.
Boil corn ears for 1 minute, then remove.
Heat a grill or skillet to high heat.
Grill corn, turning occasionally, until kernels begin to char. Continue until all sides are charred, around 5 minutes.
Combine mayonnaise, lime juice and chilli powder in a bowl. Season to taste.
Brush hot corn with mayonnaise mix and top with feta and coriander.
Serves 2
Taco Salad
Ingredients
500g heirloom and/or cherry tomatoes, sliced
200g black beans
1 avocado, sliced
30g Mission Chilli and Lime corn chips, coarsely crushed
1 lime
50g Kewpie mayonnaise
¼ tsp paprika
100g feta
½ bunch coriander, leaves picked
1 pomegranate, seeds removed
Method
In a small bowl, mix together juice of one lime, mayonnaise and paprika.
Assemble a plate with tomatoes, black beans, avocado and corn chips. Season with salt flakes.
Drizzle over mayonnaise mixture, top with feta, coriander and pomegranate seeds.
Serves 2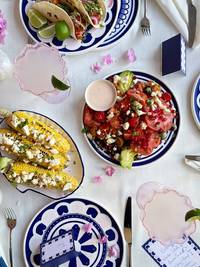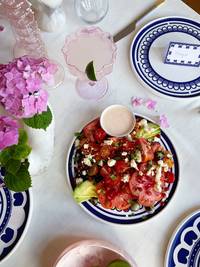 Click here
to download the Easy Prawn Tacos recipe